From Criminology to Technology @Capgemini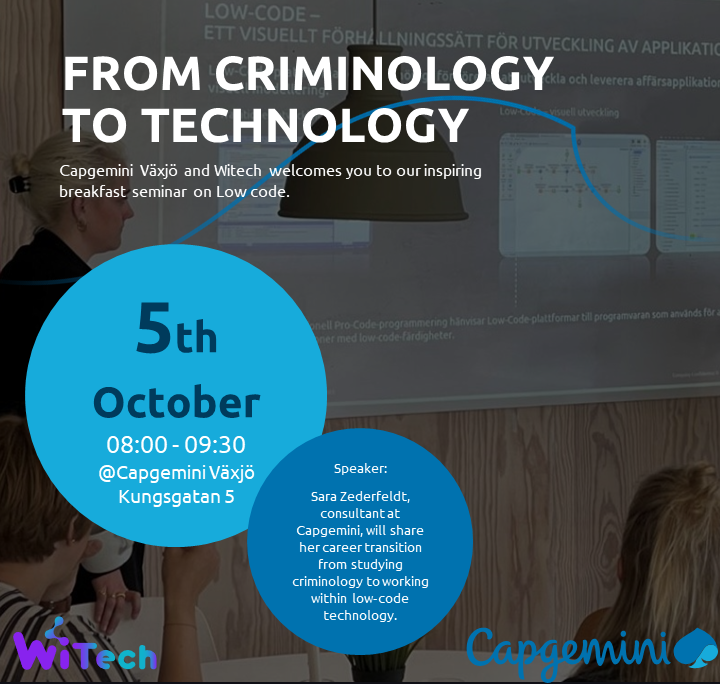 From Criminology to Technology @Capgemini
156
156 people viewed this event.
Excited to explore one of the most exciting paths in the tech industry? Then we have a perfect morning for you! Capgemini Växjö and Witech welcome you to our inspiring breakfast seminar on Low-code.
We will be hearing from one of Capgemini's consultants, Sara Zederfeldt, sharing her journey from studying criminology to working as a business analyst and app developer within low-code today. Her story will show you how it's possible to make an exciting career transition.
Who is this event for?
Are you already a part of the IT world and want to explore new horizons? Or are you simply curious about diving into the exciting world of IT? Regardless of your background or level of experience, this event is a unique opportunity to increase your understanding of Low-code and open doors to countless opportunities in the tech industry.
Don't miss the chance to be a part of a journey that can change your career. Register now and let's together explore the endless potential of Low-code!
Agenda:
08:00 – 08:30: Breakfast and networking
08:30 – 08:40: Welcome by Capgemini and Witech
08:40 – 09:00: From Criminology to Technology – Sara Zederfeldt's Journey
09:00 – 09:20: Discussion and Questions
09:20 – 09:30: Closing Remarks
09:30: Event ends
*Please note that the event will be in Swedish
Welcome!