Tech Talk @ Visma: Journey of Change, Sustainable Coding, Leadership Code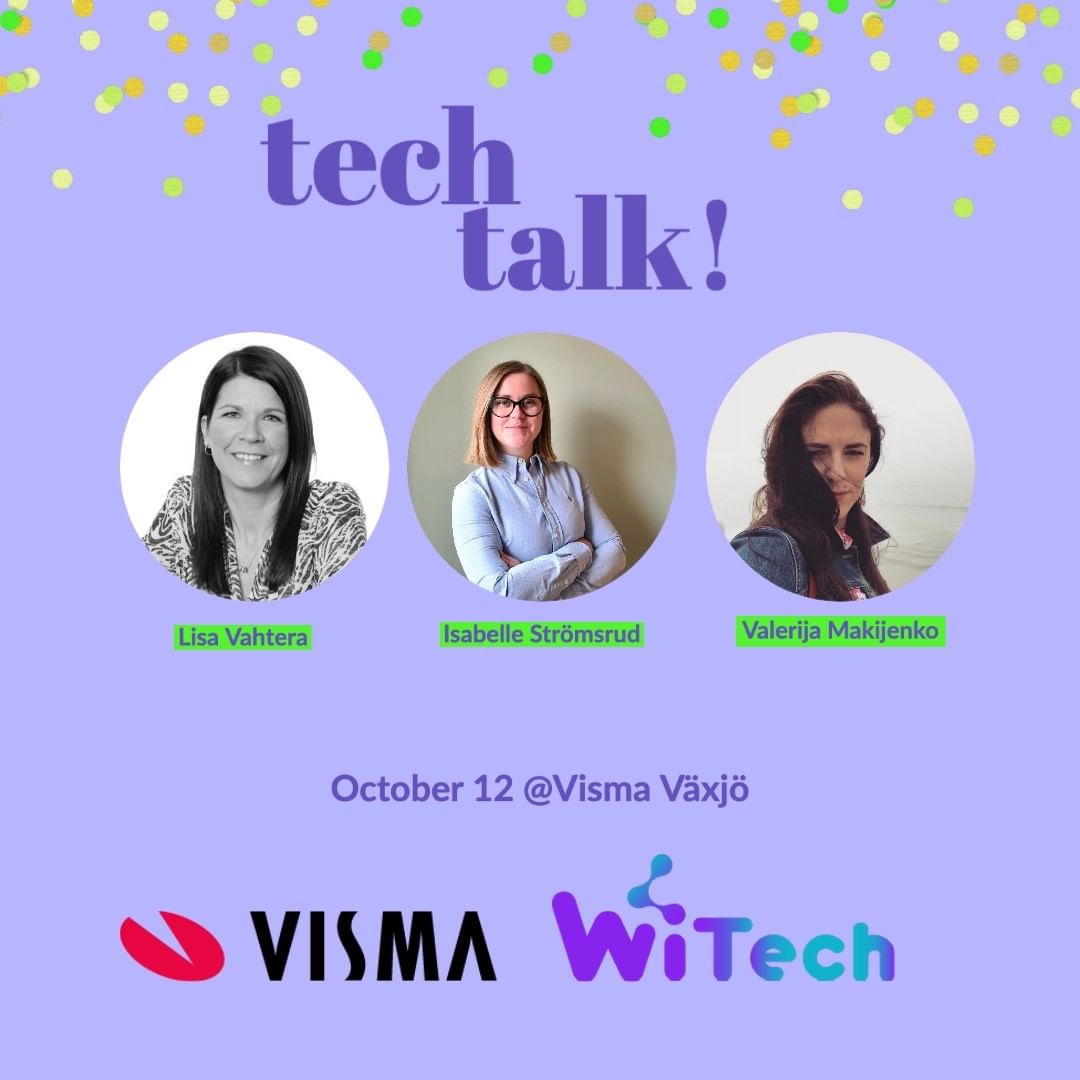 Tech Talk @ Visma: Journey of Change, Sustainable Coding, Leadership Code
461
461 people viewed this event.
Welcome to our next Tech Talk hosted by Visma in Växjö on October 12, 2022!
Agenda:
7:30-8:00 – Breakfast & Mingle
8:00-8:20 – Welcome from WiTech & Visma
8:20-09:15 – Tech talk
9:15-9:30 – Mingle (optional)
8:20-8:35 – Tech talk – A journey of change and why we are never satisfied
Presented by Elisabeth Vahtera, Team Manager
In this presentation, we will talk about the transformation from managing a huge monolith service,
with heavy and time-consuming monthly night releases, static and ineffective processes, and low
employee satisfaction to become a high-performance team who embraces changes and
constantly delivers value with high quality.
8:40-8:55 Tech talk: Sustainable Coding
Presented by Isabelle Strömsrud, Software Developer
It's important to develop solutions that solve the original issue and not only what a userconsiders needed. This is to ensure good quality in your code. In this presentation, I will talk about what you can do as a developer to ensure that your code is sustainable.
9:00-9:15 Tech talk: My Leadership Code
Presented by Valerija Makijenko, Product Development Director
During my 16 years long journey in tech, I was blessed with diverse challenges, starting with
leading local collocated teams, moving to international distributed teams, and now working
with top European software companies. Happy to share my current conclusions on what
makes great leadership.
About Visma
The Visma group consists of over 200 companies across more than 20 countries worldwide.
Visma is a leading provider of core business software for a more efficient and resilient society.
For us, creating great technology relies on the talent of our people. With the guidance and
leadership of our experienced management group, our employees can grow and perform
their best every day.
Location: Sambandsvägen 5, Växjö
Sign-up here https://forms.gle/VH9h8r1rFK3Yhym67